Occupy Books
"The only sure bulwark of continuing liberty is a government strong enough to protect the interests of the people, and a people strong enough and well enough informed to maintain its sovereign control over the government."Â - Franklin D. Roosevelt
Roughly a couple weeks into the Occupy Wall Street protest a group of activists in Liberty Square took to building a library. Since the demise of Borders and due to a lack of funding for public libraries, the OWSL (occupy wall street library)  had become the main library for the neighborhood. Mothers brought their kids to check out the extensive collection of children's books, students found access to contemporary research aids, and those seeking a mental escape from the New York winter were able to borrow a novel of their liking. When Zuccotti Park was raided at 2:00am on Tuesday, over 5,500 books were confiscated. Many were ripped, tattered and destroyed through the process of being carelessly tossed into dumpsters by NYPD. According to several librarians who manned the OWSL, only a couple thousand books were saved and most are severely damaged.
In solidarity with the idea that democracy is dependent on an informed citizenry, Bold Type has started this recommended reading list (#occupybooks). The collection featured are mostly contemporary titles focused on Economics, Political Science, History and Activism -- particularly aimed to help inform those who want to know more about why people are protesting today and to help those protesting to be better informed. Being that, like all sources of knowledge, this list is a work in progress, please recommend titles you feel should be included by posting them in the comment thread below. As the list grows your recommendations may find their way into the body of the post. You can also tweet your recommendations to us at: Bold Type Twitter
We also suggest that if you're interested in reading one of the books on the list, get it from your local library or independent bookstore. As author Sherman Alexie says of Amazon.com, "It's for those who want WalMart prices without the public shame of walking into WalMart." If you don't have an independent bookstore in your area there are many online that will ship to you such as NorthtownBooks
(if you scroll to the bottom there are links to a few free online sources)
Coming of Age at the End Of History -- Camille De Toledo
Camille de Toledo's manifesto examines counterculture movements from the fall of the Berlin Wall to the present. He asks what exactly his generation is protesting against and contemplates how revolt against Western capitalistic values has been neutralized since the time of Francis Fukuyama's landmark 1989 article, "The End of History?" Analyzing the historical spirit of rebellion from the Surrealists to Jean-Luc Godard to Kurt Cobain, Toledo explains how the diffusion of political power and media co-option have robbed all forms of cultural dissent of their critical potential, leaving behind a new generation of rebels unsure of their cause. In coruscating prose he argues for cultural renewal by reaffirming the poetic over the commercial being, reincarnating the body through nonviolent direct action and identity jamming, nomadism, and embracing the infinity of possibilities.
13 Bankers -- Simon Johnson & James Kwak
In spite of its key role in creating the ruinous financial crisis of 2008, the American banking industry has grown bigger, more profitable, and more resistant to regulation than ever. Anchored by six megabanks whose assets amount to more than 60 percent of the country's gross domestic product, this oligarchy proved it could first hold the global economy hostage and then use its political muscle to fight off meaningful reform. 13 Bankers brilliantly charts the rise to power of the financial sector and forcefully argues that we must break up the big banks if we want to avoid future financial catastrophes.
Shock Doctrine --Naomi Klein
In this groundbreaking history of the most dominant ideology of our time, Milton Friedman's free-market economic revolution, Naomi Klein challenges the popular myth of this movement's peaceful global victory. From Chile in 1973 to Iraq today, Klein shows how Friedman and his followers have repeatedly harnessed terrible shocks and violence to implement their radical policies. As John Gray wrote in The Guardian, "There are very few books that really help us understand the present. The Shock Doctrine is one of those books."
Debt: The First 5,000 Years -- David Graeber
Here anthropologist David Graeber presents a stunning reversal of conventional wisdom. He shows that for more than 5,000 years, since the beginnings of the first agrarian empires, humans have used elaborate credit systems to buy and sell goods—that is, long before the invention of coins or cash. It is in this era, Graeber argues, that we also first encounter a society divided into debtors and creditors.
Graeber shows that arguments about debt and debt forgiveness have been at the center of political debates from Italy to China, as well as sparking innumerable insurrections. He also brilliantly demonstrates that the language of the ancient works of law and religion (words like "guilt," "sin," and "redemption") derive in large part from ancient debates about debt, and shape even our most basic ideas of right and wrong. We are still fighting these battles today without knowing it
With Liberty and Justice for Some -- Glenn Greenwald
From the nation's beginnings, the law was to be the great equalizer in American life, the guarantor of a common set of rules for all. But over the past four decades, the principle of equality before the law has been effectively abolished. Instead, a two-tiered system of justice ensures that the country's political and financial class is virtually immune from prosecution, licensed to act without restraint, while the politically powerless are imprisoned with greater ease and in greater numbers than in any other country in the world.
Starting with Watergate, continuing on through the Iran-Contra scandal, and culminating with Obama's shielding of Bush-era officials from prosecution, Glenn Greenwald​ lays bare the mechanisms that have come to shield the elite from accountability. He shows how the media, both political parties, and the courts have abetted a process that has produced torture, war crimes, domestic spying, and financial fraud.
The Death and Life of American Journalism -- John Nichols & Robert McChesney
American journalism is collapsing as newspapers and magazines fail and scores of reporters are laid off across the country. Conventional wisdom says the Internet is to blame, but veteran journalists and media critics Robert W. McChesney and John Nichols disagree. The crisis of American journalism predates the Great Recession and digital media boom. What we are witnessing now is the end of the commercial news model and the opportune moment for the creation of a new system of independent journalism, one subsidized by the public and capable of safeguarding our democracy.
First as Tragedy Then as Farce --Slavoj Zizek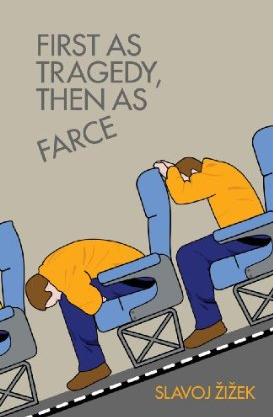 Billions of dollars have been hastily poured into the global banking system in a frantic attempt at financial stabilization. So why has it not been possible to bring the same forces to bear in addressing world poverty and environmental crisis?
In this take-no-prisoners analysis, Slavoj Zizek frames the moral failures of the modern world in terms of the epoch-making events of the first decade of this century. What he finds is the old one-two punch of history: the jab of tragedy, the right hook of farce. In the attacks of 9/11 and the global credit crunch, liberalism dies twice: as a political doctrine and as an economic theory.
First as Tragedy, Then as Farce is a call for the Left to reinvent itself in the light of our desperate historical situation. The time for liberal, moralistic blackmail is over.
Griftopia -- Matt Taibbi
Rolling Stone's Matt Taibbi​ here unravels the whole fiendish story, digging beyond the headlines to get into the deeper roots and wider implications of the rise of the grifters. He traces the movement's origins to the cult of Ayn Rand and her most influential—and possibly weirdest—acolyte, Alan Greenspan​, and offers fresh reporting on the backroom deals that decided the winners and losers in the government bailouts. He uncovers the hidden commodities bubble that transferred billions of dollars to Wall Street while creating food shortages around the world, and he shows how finance dominates politics, from the story of investment bankers auctioning off America's infrastructure to an inside account of the high-stakes battle for health-care reform—a battle the true reformers lost. Finally, he tells the story of Goldman Sachs​, the "vampire squid wrapped around the face of humanity."
Taibbi has combined deep sources, trailblazing reportage, and provocative analysis to create the most lucid, emotionally galvanizing, and scathingly funny account yet written of the ongoing political and financial crisis in America. This is essential reading for anyone who wants to understand the labyrinthine inner workings of politics and finance in this country, and the profound consequences for us all.
Traveling Light: On the Road with America's Poor -- Kath Weston
How far can you get on two tacos, one Dr. Pepper, and a little bit of conversation? What happens when you're broke and you need to get to a new job, an ailing parent, a powwow, college, or a funeral on the other side of the country? And after decades of globalization, what kind of America will you glimpse through the window on your way? For five years, Kath Weston rode the bus to find out.
Traveling Light is not just another book about people stuck in poverty. Rather, it's a book about how people move through poverty and their insights into the sweeping economic changes that affect us all. The result is a moving meditation on living poor in the world's wealthiest nation.
Tales from the Sustainable Underground: A Wild Journey with People Who Care More About the Planet Than the Law -- Stephen Hren
Activists striving for any type of social change often find themselves operating on the fringes of legal and social norms. Many experience difficulties when their innovative ideas run afoul of antiquated laws and regulations that favor a big business energy- and material-intensive approach. Tales From the Sustainable Underground is packed with the stories of just some of these pioneers—who care more for the planet than the rules—whether they're engaged in natural building, permaculture, community development, or ecologically based art. Ride along and meet courageous and inspiring individuals such as: Solar guru Ed Eaton, Radical urban permaculturists Scott Kellogg and Stacy Pettigrew and Artist, eco-architect, and intuitive builder Matt Bua.
Equally entertaining and informative, the profiles in this highly original book provide a unique lens through which to view deeper questions about the societal structures that are preventing us from attaining a more sustainable world. By examining such issues as the nature of property rights and the function of art in society, the author raises profound questions about how our social attitudes and mores have contributed to our current destructive paradigm.
Hillbilly Nationalists Urban Race Rebels and Black Power Community Organizing in Radical Times -- Amy Sonnie and James Tracy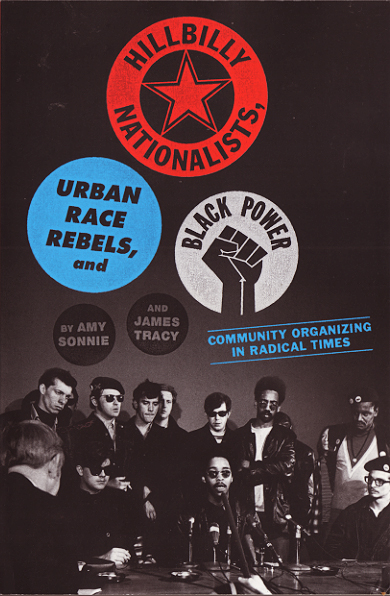 "Hillbilly Nationalists recovers the voices of white, working-class radicals who prove abolitionist John Brown's legacy is alive and well. Over ten years, Sonnie and Tracy have collected rare documents and conducted interviews to fill a long-missing piece of social movement history. Focusing on the 1960s–70s and touching on issues just as relevant today, these authors challenge the Left not to ignore white America, while challenging white America to recognize its allegiance to humanity and justice, rather than the bankrupt promises of conservative politicians."  —Angela Y. Davis, author of Abolition Democracy: Beyond Prison, Torture, and Empire
Unacknowledged Legislation -- Christopher Hitchens
A celebration of Percy Shelley's assertion that 'poets are the unacknowledged legislators of the world', these thirty-plus essays on writers from Oscar Wilde to Salman Rushdie dispel the myth of politics as a stone tied to the neck of literature; Norman Podhoretz's 'bloody crossroads'. Instead Hitchens argues that when all parties in the state were agreed on a matter, it was the individual pens that created the space for a true moral argument.
The Big Short -- Michael Lewis
The real story of the crash began in bizarre feeder markets where the sun doesn't shine and the SEC doesn't dare, or bother, to tread: the bond and real estate derivative markets where geeks invent impenetrable securities to profit from the misery of lower- and middle-class Americans who can't pay their debts. The smart people who understood what was or might be happening were paralyzed by hope and fear; in any case, they weren't talking. Michael Lewis creates a fresh, character-driven narrative brimming with indignation and dark humor.
The End of Growth -- Richard Heinberg
Economists  insist that recovery is at hand, yet unemployment remains high, real estate values continue to sink, and governments stagger under record deficits. The End of Growth proposes a startling diagnosis: humanity has reached a fundamental turning point in its economic history. The expansionary trajectory of industrial civilization is colliding with non-negotiable natural limits.
Richard Heinberg's latest landmark work goes to the heart of the ongoing financial crisis, explaining how and why it occurred, and what we must do to avert the worst potential outcomes. Written in an engaging, highly readable style, it shows why growth is being blocked by three factors: resource depletion, environmental impact and crushing levels of debt
These converging limits will force us to re-evaluate cherished economic theories and to reinvent money and commerce.
The End of Growth describes what policy makers, communities, and families can do to build a new economy that operates within Earth's budget of energy and resources. We can thrive during the transition if we set goals that promote human and environmental well-being, rather than continuing to pursue the now-unattainable prize of ever-expanding GDP.
Washington Rules: America's Path to Permanent War -- Andrew Bacevich
Hailed as "brilliant" (The Washington Post), Washington Rules is Andrew J. Bacevich's bestselling challenge to the conventional wisdom that American security requires the United States (and us alone) to maintain a permanent armed presence around the globe, to prepare our forces for military operations in far-flung regions, and to be ready to intervene anywhere at any time. Adopted by administrations on both sides of the political spectrum during the past half century, this Washington consensus on national security has become foreign policy gospel when, according to Bacevich, it has outlasted its usefulness.
With vivid, incisive analysis, Bacevich assails and exposes the preconceptions, biases, and habits that underlie this pervasive faith in military might, especially the notion that overwhelming superiority will oblige others to accommodate America's needs and desires—whether for cheap oil, cheap credit, or cheap consumer goods. Instead, Bacevich argues that we must reconsider the principles which shape American policy in the world and acknowledge that fixing Afghanistan should not take precedence over fixing Detroit. As we enter a period when our militarism has become both unaffordable and increasingly dangerous, replacing this Washington consensus is crucial to America's future and may yet offer the key to the country's salvation.
Confessions of an Economic Hitman -- John Perkins
With a presidential election around the corner, questions of America's military buildup, environmental impact, and foreign policy are on everyone's mind. Former "Economic Hit Man" John Perkins goes behind the scenes of the current geopolitical crisis and offers bold solutions to our most pressing problems. Drawing on interviews with other EHMs, jackals, CIA operatives, reporters, businessmen, and activists, Perkins reveals the history of events that have created the current American Empire, including: How the "defeats" in Vietnam and Iraq have benefited big business; The role of Israel as "Fortress America" in the Middle East; Tragic repercussions of the IMF's "Asian Economic Collapse"; The current Latin American revolution and its lessons for democracy; and the U.S. blunders in Tibet, Congo, Lebanon, and Venezuela.
From the U.S. military in Iraq to infrastructure development in Indonesia, from Peace Corps volunteers in Africa to jackals in Venezuela, Perkins exposes the corruption that has fueled instability and anti-Americanism around the globe, with consequences reflected in our daily headlines. Having raised the alarm, Perkins passionately addresses how Americans can work to create a more peaceful and stable world for future generations.
The World as it is -- Chris Hedges
Drawing on two decades of experience as a war correspondent and based on his numerous columns for Truthdig, Chris Hedges presents The World As It Is, a panorama of the American empire at home and abroad, from the coarsening effect of America's War on Terror to the front lines in the Middle East and South Asia and the continuing Israeli-Palestinian conflict.
Underlying his reportage is a constant struggle with the nature of war and its impact on human civilization. "War is always about betrayal," Hedges notes. "It is about betrayal of the young by the old, of cynics by idealists, and of soldiers and Marines by politicians. Society's institutions, including our religious institutions, which mold us into compliant citizens, are unmasked."
This list could go on... and it will...
There are thousands of books available to educate those inside the movement as well as to inform others as to why Occupy Wall Street, and the Tea Party for that matter, have become populace movements. Authors like Chomsky, Zinn, Huxley and Orwell are obvious at this point. If you haven't read them -- do so now. Animal Farm is a must for those inside the movement.  Online there are multitudes of free sources.
Here are links to a few: Hakim Bay's Temporary Autonomous Zone, George Bernard Shaw's Maxims for Revolutionists, and some essays by James Baldwin, they're timeless and brilliant.